Heavenly Double Chocolate Muffins Recipe
Craving a chocolatey treat? Our Double Chocolate Muffins recipe combines the goodness of Chocolate Shakeology with real chocolate chips for a decadent yet guilt-free snack. Indulge your taste buds in this heavenly delight – perfect for busy moms!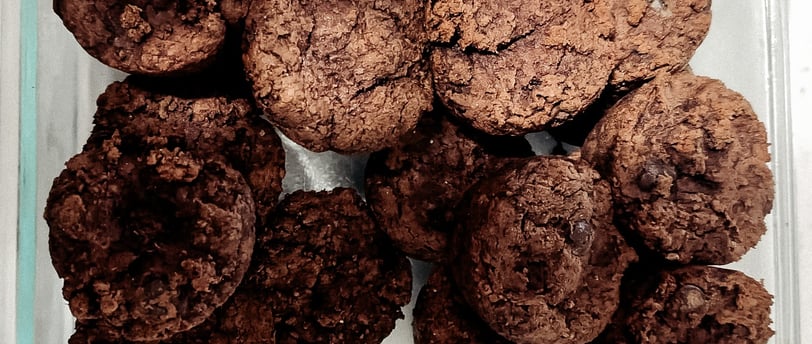 Hey Mama! Indulge your senses and satisfy your chocolate cravings with my heavenly Double Chocolate Muffins!
These delectable treats are studded with real chocolate chips and boast the rich, decadent cocoa flavor of Chocolate Recover (my fave post-workout protein) Whether you're treating yourself to a morning delight or seeking a sweet snack, these muffins are the perfect choice, especially when you're trying to find healthy options for your littles. Plus, they're super easy to make and guilt-free! Let's dive into this chocolatey goodness.
Ingredients:
Muffin liners

Nonstick cooking spray

1 large banana

3 scoops Chocolate Shakeology

3 large eggs, lightly beaten

¼ cup / 60 g reduced-fat (2%) plain Greek yogurt

2 Tbsp. unsweetened almond milk

1 tsp. baking soda

½ tsp. pure vanilla extract

1 Tbsp. + 1 tsp. semisweet (or dark) chocolate chips
Instructions:
Step 1: Preparation Preheat your oven to 350°F (180°C). Line a muffin pan with 9 muffin liners and lightly coat them with nonstick cooking spray.
Step 2: Mash the Banana In a medium mixing bowl, add the banana and mash it with a fork until smooth.
Step 3: Combine Ingredients To the mashed banana, add the Chocolate Shakeology, lightly beaten eggs, Greek yogurt, unsweetened almond milk, baking soda, and pure vanilla extract. Stir everything together until well combined.
Step 4: Add Chocolate Chips Gently fold in 1 tablespoon plus 1 teaspoon of semisweet (or dark) chocolate chips into the batter. This will create delicious pockets of chocolatey goodness.
Step 5: Divide Batter Evenly divide the batter among the prepared muffin liners.
Step 6: Baking Place the muffin pan in the preheated oven and bake for 18 to 20 minutes, or until a toothpick inserted into the center of a muffin comes out clean.
Step 7: Cooling Allow the muffins to cool slightly before serving.
Step 8: Storage Store any leftovers in an airtight container in the refrigerator for up to 3 days or freeze them for up to 1 month. If reheating, avoid the microwave and use an oven, toaster oven, or air-fryer to maintain their delicious texture.
These Double Chocolate Muffins are not only a chocolate lover's dream but also a nutritious and energizing treat.
Made with wholesome ingredients, including the goodness of Chocolate Recover, they're perfect for busy moms looking for a quick and delightful snack. Enjoy these muffins any time of day and savor the rich, chocolatey goodness guilt-free! Enjoy, mamas!
Xo, Cheyanne